Apple Bobbing is a game played at many Halloween parties. But did you know that its origins stem back to love and romance?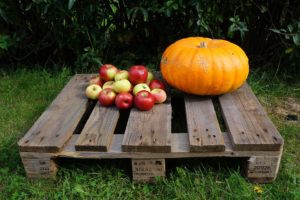 The game began as a courting ritual in a Roman festival honoring a goddess of agriculture and abundance. Her name was Pomona. The goddess was often represented by apples.
The idea behind the game was that women and men could predict their future based on the game.
In 43 AD, the festival melded with the Samhain tradition around the same time, which led to the beginning of Halloween.
Bobbing for apples continued as a British courting ritual, and became popular among young, single ladies and their potential suitors.
There are several sets of rules and variations. In the game most familiar, an apple is assigned to each potential mate. The apple bobber attempts to bite into the apple named for the suitor she most desires.
For those who are celebrating, have a happy and safe Halloween. And, happy apple bobbing.
Have you ever bobbed for apples? Please leave your comments below:
New Release!
If you love holiday romance, be sure to grab your copy of my sweet and wholesome Christmas story, Christmas in the Air.
What if you told your innermost secrets to a guy you assumed you'd never see again?
Penelope Reid owns a toy business, and meets an elusive, handsome stranger on a plane trip to Hilton Head Island. Along the way, she confesses her problems and fears, her aspirations, and unrealized goals, while she believes the man is only half-listening. She is a single mother in her late 40s, readjusting to her life after a difficult divorce, and raising a challenging twelve-year-old son.
Two months later, she comes into direct contact with Jacob Williams, the new pediatrician in town, and the man she met on the plane. Jacob knows many facts about her life. Will he use his knowledge to embarrass her, or pursue her?
As Jacob and Penny get to know each other, Jacob relates his story to Penny—his poverty-stricken childhood, his mother's disapproval when he left the family farm, and his recent job.
She is touched and impressed by his new goals to forego his ambitions and help people. And she is a bit envious he has decided what he wants and is going after it.
Things can only take a turn for the worse when their romance begins to develop, all under the disapproving eyes of her critical son and the small, inquisitive community who thought they knew her.
Her son is begging for a snuggly puppy for Christmas. But is he ready to assume the responsibility? And does Penelope have room in her heart for a new romance and an adorable puppy?
If you like sweet romance movies and books, then you'll love Christmas in the Air, brimming with heartwarming holiday cheer.
A Happily-Ever-After is guaranteed.
Wrap yourself up in the uplifting joy of Christmas and fall in love with sweet, small-town romance. This is the sixth book in the beloved 1-800 home-flipping series.
Order your copy of Christmas in the Air today. Only 99¢ for a limited time.
1-800-CUPID
1-800-CHRISTMAS
1-800-IRELAND
1-800-SUMMER
1-800-NEW YEAR
Christmas in the Air
Josie Riviera is a USA Today bestselling author of contemporary, historical, and inspirational romances that read like Hallmark movies. She lives in the Charlotte, NC, area with her wonderfully support husband. They share their home with an adorable shih tzu, who constantly needs grooming, and live in an old house forever needing renovation.
Sign up for her newsletter and get a FREE ebook on her website: josieriviera.com