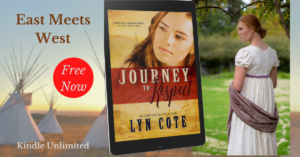 JOURNEY TO RESPECT by Lyn Cote
East Meets West in a Regency Era Western~
An inspirational historical romance from a Carol Award–winning author:
Does Rafe belong with his mother's tribe or on his father's plantation?
As he chooses between two lives, Eve, a daughter of a prominent Washington, DC family, prepares for an unexpected journey west. Both Rafe and Eve embark on a journey, a Journey to Respect. But such journeys are rarely uncomplicated or without pitfalls. And falling in love is the most dangerous of all. PG13
This moving, authentic historical novel by a USA Today Bestselling author, is one you won't want to miss. Though part of a series, this story is complete within itself.
A family's saga, a young nation's story~
What Readers Say:
"I so very seldom write a review but I couldn't turn the last page without leaving one this time. Characters and emotions in this book seem so stunningly real I felt I was in the midst of them. This is a very beautiful story and I highly recommend it to each and all readers."
"Another fantastic story in this series. Each one is as good as or better than the previous one. We met Rafe McKuen, the son of an Osage chief's daughter and a fur trader in book two, but we get to know the man he is now."