Lyn Cote here with another review of a great Sweet Romance for you!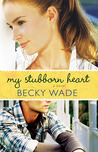 My Stubborn Heart
by
Becky Wade
My rating:
5 of 5 stars
Well, another great Becky Wade contemporary romance!
My Stubborn Heart
is another lively romance featuring a heroine who doesn't know how she attracts a larger than life hero, in this case: a world class hockey player.
I love
Becky Wade
's voice. Her light but endearing touch. Her ability to charm us with characters such as Velma and Morty and make us believe in them and enjoy them.
If you're looking for a fun, sweet, insightful and touching read, THIS SWEET ROMANCE is for YOU!
View all my reviews
Let me ask you a question--do reviews written by other readers encourage you to take a chance on a book OR NOT?
Do you like to read and review books? If you do, have you joined our SWEET TEAM? You can sign up to read new books by our Sweet Romance Reads authors. Click the tab above and look it over.
And don't forget to sign up for our Sweet Romance Reads newsletter! Prizes in each issue!--Lyn
SPECIAL OFFER!! Click here to enter.
SEVERAL SWEET ROMANCE READS AUTHORS ARE PARTICIPATING. DON'T MISS THIS CHANCE TO WIN A KINDLE FIRE AND EBOOKS!