Don't you love proposal stories! How a couple gets engaged tells so much about their personalities and their relationship. From the understated to the over-the-top, they all have something wonderful about them.
That's why they're so much fun to write. Here are some things I consider when trying to create the perfect proposal in one of my books:
* Who? - We know the couple will be there! :) But who else might they want involved in one of the most intimate, special moments of their lives? Will it just be the two of them? Should friends and family be there? Maybe it's on a large scale like at a sports arena or on television?
* What? - What will he (or it could be the she) do to make it special? A scavenger hunt, a big production, a romantic dinner, a surprise when she's least expecting it.
* Where? - What place would create the most romantic setting? Where did they fall in love? What spots are special to them? Where did they meet?
* When? Is he waiting until the perfect moment to ask? Carrying the ring around for weeks? Or maybe it's not even planned--the questions just pops out in a moment of clarity.
* Why? - As an author, this is my favorite part. What words are said to convey exactly why he wants to spend the rest of his life with this person? How do you create that perfect sigh-worthy moment.
What are some of your favorite proposals in books? Have you ever witnessed a special proposal?
I'm excited to announce that book #2 in the Taste of Texas series is now available: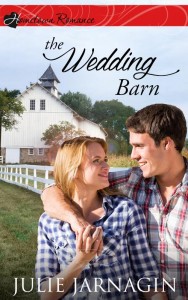 Paige Morgan's career is in shambles. What kind of wedding planner gets left at the altar? So when a job planning parties on a ranch in rural Texas comes her way, she jumps at it. So what if the cowboy who runs the place isn't happy she's there?
Rancher Nick Reid risked his heart once… and lost. Who needs love? He's got a great life on the family ranch—so long as Paige Morgan and her city ideas don't ruin it all. If only his family didn't need her help to save their livelihood. And if only he wasn't so darned drawn to the woman. But no sooner does Nick start to believe in love again, than a socialite shows up looking for Paige. Asking her to plan an elaborate wedding. Back in the city.
Both Paige and Nick need a second chance at love. But what will it cost them to take it?
USA Today Best Selling author Julie Jarnagin writes sweet and inspirational romance. She grew up in a small Oklahoma town where her family farmed and ranched. These days she lives in a not-so-big city with her amazing husband and two young sons who tolerate all her nerdy quirks. Julie earned a B.A. in Journalism / Professional Writing from the University of Oklahoma and is a member of American Christian Fiction Writers.
www.JulieJarnagin.com.
Sign up for her newsletter to be the first to learn about new releases and free books:
http://eepurl.com/5y5k


The Sweet Romance Reads Newsletter
Sign up for our

newsletter

and keep up with Sweet Romance Reads! Scroll down the right side of our blog and enter your email address under Newsletter Signup.
Join us at

Sweet Romance Reads Cafe

to chat with our authors. We love to hear from you!