Summer is the season for love and romance, and June sets the stage for the most beautiful and memorable weddings. According to The Knot, a popular wedding planning website, June has been the most popular month for weddings for the past few years. In 2015 alone, more than 15 percent of all weddings took place in June. But what makes June such a popular month for tying the knot?
One of the reasons is the mild weather. With average temperatures ranging from the mid-60s to low 80s, June offers a comfortable and enjoyable setting for an outdoor ceremony. Unlike July and August, when the heat can be overwhelming, June provides a comfortable climate for both the couple and their guests.
Another reason why June is such a popular wedding month is the abundance of beautiful flowers in bloom. June is the season for peonies, roses, hydrangeas, and other stunning blooms that make for the perfect wedding bouquet. With the natural beauty of summer, June weddings often require less decoration to create a dreamy and romantic atmosphere.
Additionally, June also marks the end of the school year and the start of summer vacation. For families with children, this timing makes it easier to plan a wedding and for guests to attend, without having to worry about school schedules.
Lastly, June has always been associated with romance and love. The month takes its name from the Roman goddess Juno, who was the goddess of marriage and childbirth. The idea of a June wedding has been romanticized in literature and movies for centuries, making it a popular choice for couples who want to create a romantic and sentimental atmosphere.
For sweet romance readers, June weddings offer the perfect backdrop for a heartwarming love story. The natural beauty, mild weather, and romantic ambiance make it an ideal setting for a sweet and tender romance. So, whether you're planning your own wedding or simply looking for inspiration for your next read, June is the month to celebrate love and romance.
Do you enjoy attending summer weddings? Please leave your comments below.
Did you know that my husband and I got married on June 14th? :)
Looking for a heartwarming small-town inspirational romance that will lift your spirits and renew your faith? Look no further than my RONE finalist, A Summer To Cherish. And right now, during the amazing 99 cent Kindle countdown sale, there's no better time to fall in love with this delightful tale!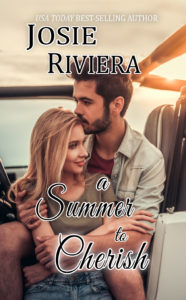 The story follows David Fodero, a successful artist whose faith is being tested like never before. Alone in a mountain cabin near Cherish, David meets Ashley Madden, a woman whose warmth and optimism begin to heal his hurting soul. As their attraction grows, Ashley is determined to help David find the answers he's been searching for - but will their secrets be too much to overcome?
Filled with charming characters and a deep faith in God, A Summer To Cherish is a must-read for fans of sweet romance. Don't miss your chance to grab it for just 99 cents - it's a deal you won't want to miss!
Order your ebook copy today! FREE on Kindle Unlimited!
Josie Riviera is a USA Today bestselling author of contemporary, historical, and inspirational romances that read like Hallmark movies. She lives in the Charlotte, NC, area with her wonderfully support husband. They share their home with an adorable Shih Tzu, who constantly needs grooming, and live in an old house forever needing renovation.
Sign up for her newsletter and get a FREE ebook on her website: josieriviera.com