If the only prayer you say in your life is 'thank you,' that would suffice. – Meister Eckhart
Gratitute. It's a simple word that has profound meaning.
Webster
defines it as "the state of being grateful: Thankfulness." Gratitude can shift your focus from what you perceive your life to lack to the abundance that is already present. Studies show that the regularly practicing gratitude makes people happier and more resilient, it strengthens relationships, it improves health, and it reduces stress.
People tend to take for granted the good that is already present in their lives, I am not an exception. It seems that I find myself all too often lamenting about things I wish I had, or how my life would be better if I only had this or could do this or that instead of looking at everything I already do have. As an author, it's really easy to fall into impostor syndrome when I read a book that I love, thinking I can never write like that. While I think that is natural and can be motivating on one level, it makes me feel awful on another. There are people that would love to have what I have.
When she was in high school, our daughter spent a weekend doing a mission project in the cities with our church youth group. They were cleaning and painting a building that was being used as a shelter for disadvantaged and homeless individuals. As she talked about her experience, she was overcome with tears. She explained that as they were handing out bags containing some personal toiletry items, an individual asked her for her socks. She never even considered socks being a covetable item. Neither have I. When I want socks, I open a dresser drawer and have many to choose from. Have I considered being grateful for socks? Not intentionally.
They say that if you want to start attracting positive things into your life, there is one small thing you should do every day—show your gratitude, appreciation and love for the people and things around you. Over the past decade, researchers have identified great social, psychological, and physical health benefits that come from giving thanks. Benefits including better sleep, fewer symptoms of illness, and more happiness among adults and kids alike. It makes perfect sense.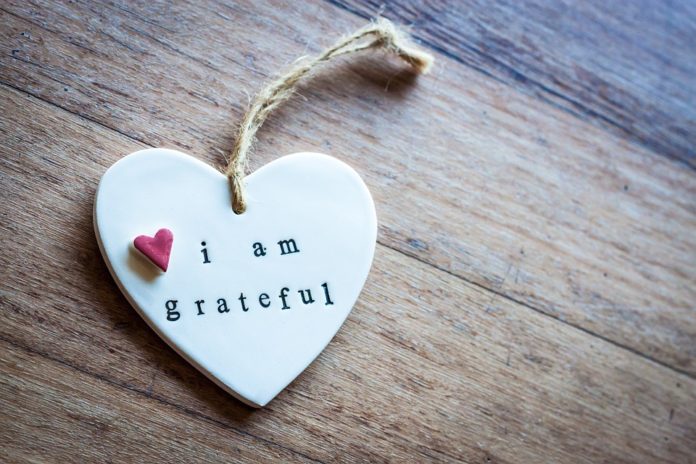 The Bible is FULL of verses about
Gratitude
. Among my favorites is:
"Give thanks in all circumstances; for this is God's will for you in Christ Jesus." - 1 Thessalonians 5:18 (NIV)
Give thanks in ALL circumstances. It's not always easy. I have gone through things in my life that I was NOT thankful for when I was going through them. Looking back at those times, I can see the lessons I learned and how my life changed for the better for having gone through those experiences. It's my goal to remember to give thanks even when I cannot find a "tangible reason" to be thankful.
This year I am determined to find gratitude in my daily life by keeping a Gratitude Journal. The idea is to make time several times each week to write down 3-5 things you are thankful for; soap, socks, or maybe just simply being. Some helpful tips if you decide to start a gratitude journal:
Don't just go through the motions. Research by psychologist Sonja Lyubomirsky and others suggests that journaling is more effective if you first make the conscious decision to become happier and more grateful. "Motivation to become happier plays a role in the efficacy of journaling," says Emmons.
Get personal. Focusing on people to whom you are grateful has more of an impact than focusing on things for which you are grateful.
Try subtraction, not just addition. One effective way of stimulating gratitude is to reflect on what your life would be like without certain blessings, rather than just tallying up all those good things.
Savor surprises. Try to record events that were unexpected or surprising, as these tend to elicit stronger levels of gratitude.
Don't overdo it. Writing occasionally (three to five times per week) is more beneficial than daily journaling. "We adapt to positive events quickly, especially if we constantly focus on them," says Emmons. "It seems counterintuitive, but it is how the mind works." Source
Once you become oriented toward looking for things to be grateful for, you will find that you naturally begin to appreciate simple pleasures and things that you previously took for granted. Gratitude should not be just a reaction to getting what you want, but an all-the-time gratitude, the kind where you notice the little things and where you constantly look for the good even in unpleasant situations.
What are you thankful for??
______
Connect with Laura on her
website
or sign up for her newsletter
here
.